Ulster Historical Foundation
Tracing your Irish and Scots-Irish Ancestors – 05-12 September 2018
Tracing your Irish Ancestors 2018 will mark the tercentenary of the 1718 migration and 300+ years of Irish migration with visits to sites and places synonymous with the migration of Ulster and Irish families to the New Worlds (North America, Australasia, South Africa etc).
Our programme is all about helping you to trace your roots
Assisted personal research in the archives with the help of the Foundation's experienced genealogists, talks, tours and sightseeing are all part of the eclectic, friendly and fun mix of Tracing Your Irish Ancestors.
Tour programme
Trips during our 2018 programme will see you walk on the walls and explore the historic port city of Derry~Londonderry; uncover the stories of some of the earliest people to travel from Ulster to Australia at the Down Museum; visit the Ulster American Folk Park which is dedicated to the story of emigration from Ulster to North America in the 18th and 19th centuries.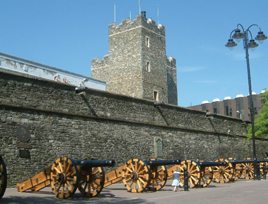 The famous Derry-Londonderry City Walls
These tours are also enlivened with visits to other renowned historical sites of interest across the island of Ireland as you will journey into pre-history to marvel at the UNESCO World Heritage site at Newgrange and look out onto the North Atlantic Ocean from the stones of the Giant's Causeway.
The Giant's Causeway
You will also be able to visit Kilmainham Gaol, one of Dublin city's most important monuments and visitor attractions and view the beautifully illustrated Book of Kells at Trinity College. All this and much much more!
Early Bird Offer – register now for excellent savings
Avail now of our early bird registration offer of only £899.99 (GBP) (Full price £949.99 GBP).
Places can fill up fast so reserve your place now, with a deposit of only £299.99 (GBP) per person!
Join us in September and learn about the dramatic history of Ulster and the lives of your Irish ancestors. You will be very welcome. For more information please visit: